We have all been photographed at some point in our lives right? Hello school picture day and yearly family photos! These experiences all add up and contribute to how we view being photographed now. Many of us don't have much experience in front of the camera either let alone with another human being. Maybe it's an exciting experience you look forward to or maybe it's painfully vulnerable. My love and I recently had our own engagements taken and even though we are photographers I still felt nervous. We all experience this differently and that's completely okay! It's normal to feel nervous and to not know what to do. However, with a little planning and an experienced photographer this doesn't have to be a painful experience.
1. Talk With Your Partner
Engagement sessions should be a reflection of you as a couple! Those who communicate and manage their expectations well beforehand tend to feel more connected and comfortable during their engagements. Encourage your partner to voice their ideas and communicate what you hope to gain from your time being photographed. Listen to their ideas and meet halfway when you have different ideas for things such as clothing, locations, etc. Here are some prompts to get you started.
How do you feel about being photographed? Understanding each others mindset allows you to support one another in the moment.
What is the purpose of your engagements? Are you interested in a gallery of intimate moments vs. a gallery of well posed formal portraits together?
How do you feel about expressing affection in photographs?
How do you want to feel later on while viewing your engagements? Beautiful? Adventurous? Intimate and in love?
Keep in mind that not all partners care to plan photography as much as other aspects of the wedding. A super quick conversation about what you want to gain from this time together is still very helpful.
2. Plan with Your Photographer
It's helpful to discuss your ideas with your photographer! Rather than asking friends or the internet for advice on locations, clothing, when to photograph, etc., it's always best to go directly to the photographer you're working with. Experienced photographers will guide you through the process and offer their advice so your session goes well for everyone involved. I personally enjoy when couples have a rough idea of what they would like and allow me to fine tune their plan to fit great light, etc. Sometimes couples have no idea what they want and would prefer leaving all decisions up to their photographer. They should be able to hear your ideas and offer suggestions.

3. Keep It Simple
My favorite engagement sessions happen between couples who keep things simple and centered around being together. Stick to one location which offers variety and leave the piles of clothes, furniture and props at home. Just be on time with your love and ready to go. Maybe you'll have an outfit change or keep it even more simple with a trendy hat or cardigan. Maybe you'll bring along a small object that holds significance to your relationship. Just think of it this way: We can spend hours fussing over clothing, driving across town or trying to get that pinterest shot. Or we can spend hours focusing on you interacting with the one you love in the environment around you. Eliminate distractions and any elements that don't contribute to your relationship.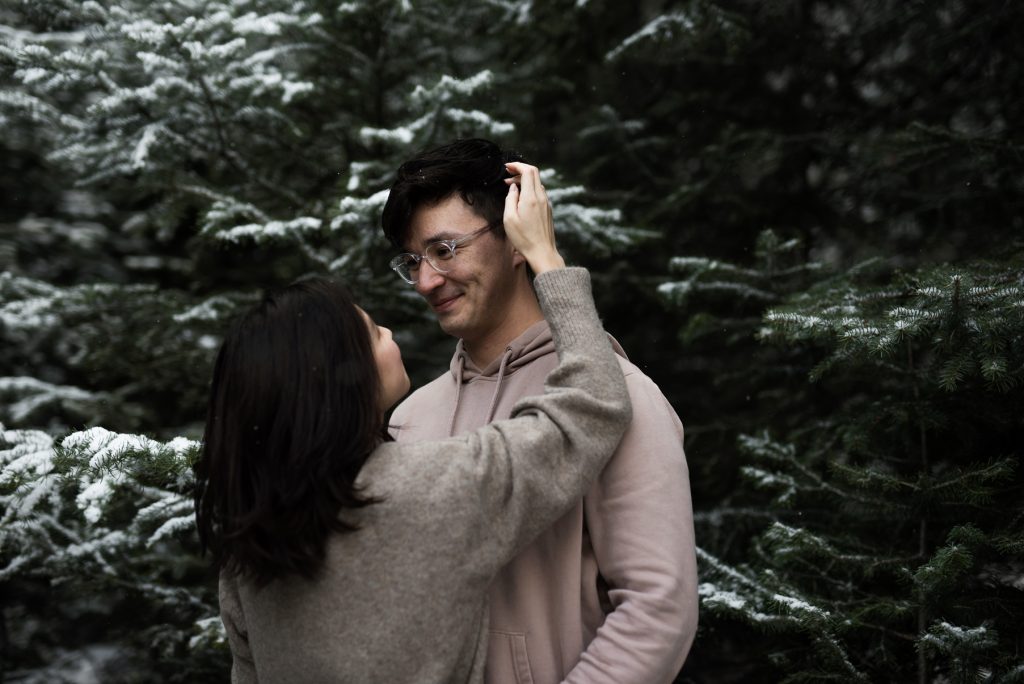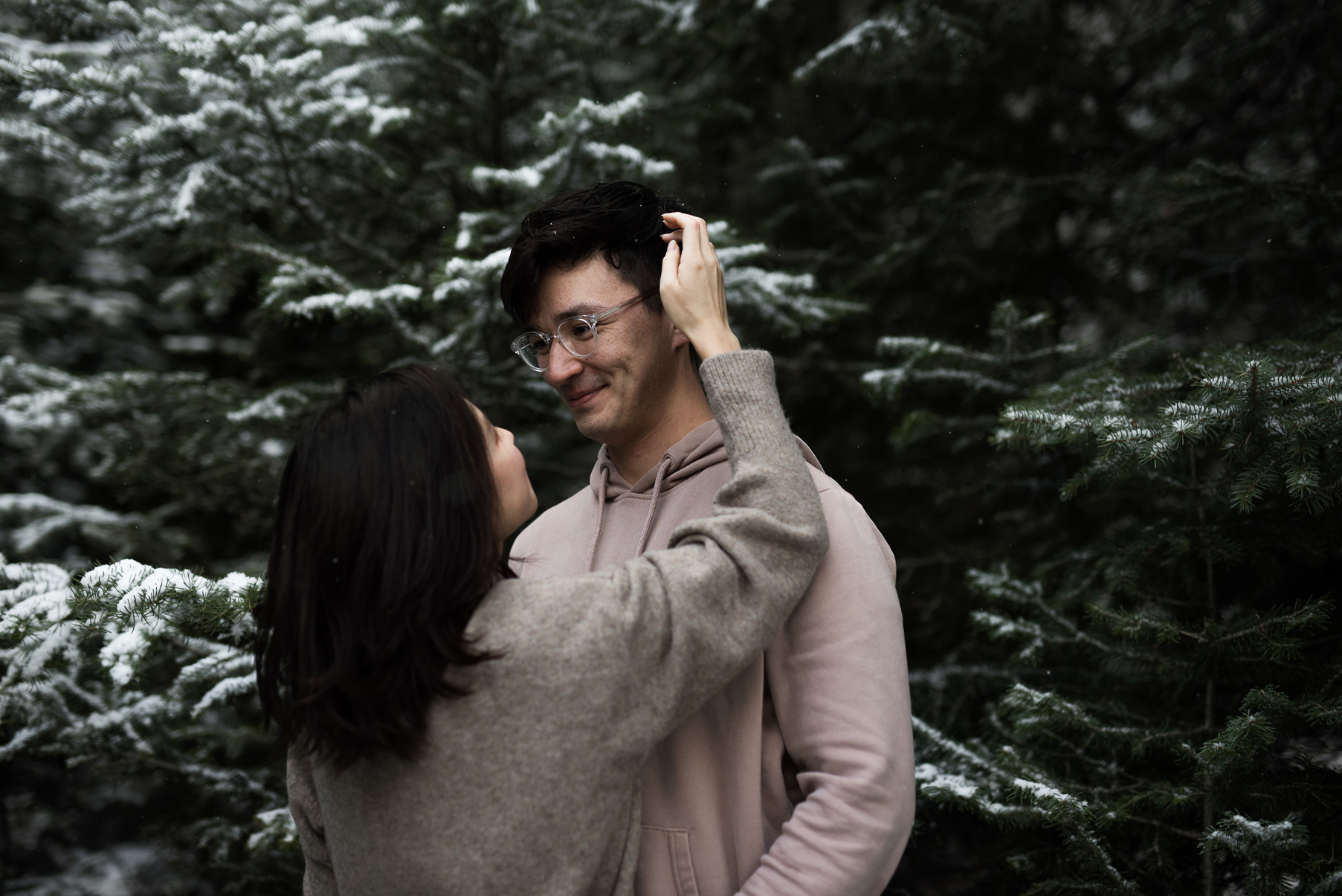 4. Avoid Crowds
My advice to those wanting an intimate engagement session experience is to avoid crowded locations as often as possible. Consider places that have little to no crowds such as nature, our homes, reserved studio spaces, quieter streets, etc. Photographing in busy spaces such as local businesses, parks, etc., can result in more distractions and significantly less intimacy as we move around people and are watched by curious nearby strangers. We can spend hours moving in an out of others way or we can spend hours moving about freely and having complete control over our environment so you can become even more focused on being together. Fortunately for us Utah has an endless amount of low trafficked landscapes at our fingertips.
5. Encourage Loved Ones To Stay Home
Many of us are fortunate to have supportive (and excited) loved ones come along to help navigate this crazy adventure of wedding planning. Maybe they joined you for your cake tasting, dress shopping and venue site visits. There's definitely a time and place for them to come along and join in on the fun. I strongly recommend encouraging loved ones to stay home during your portrait session and celebrate with you afterward. Past experiences have shown me that couples tend to tense up when being watched by anyone whether they're strangers, friends or family. Minimizing your audience to just your photographer is a guaranteed way to feel more comfortable without anyone else influencing your time together. You can always snap some cell phone pictures or share the professional photos afterward.
If you need someone to come along to help with clothing, driving, etc., try to see if your partner or photographer can fill that roll first. If you genuinely want a loved one to come along just be aware that it could influence how comfortable you and your partner feel. Definitely communicate this with your partner and photographer beforehand so everyone can plan.
6. Have a Great Time!
Perspective is everything. Realize that even though photographers are important it's even more important to have a great time. How you felt during your engagement session will be remembered when viewing your photographs later on. Try to stay in the moment with your partner and have a positive experience together. Don't be afraid to let your personality shine through and encourage your partner to do the same. Rather than scolding them for pulling a goofy face try to encourage it by giving a funny face back. Leave the "picture perfect" posing to your photographer and stay in the moment with your love. Forget the entire idea that you need to perform and be picture perfect models. Come as you are. Focus on being together and you'll have a great time.
7. Realize Your Strength
Toss out your self doubt and channel in on your strengths! What makes you unique? What is it about your partner that drives you absolutely wild in all good ways? What is it about you that drives them wild? You guys are with one another for so many reasons! What are your physical strengths? What is it about your partners character that you adore? Maybe the things we feel most self conscious about are the attributes our partners enjoy most about us. It's going to take a bit of work and honestly doesn't come easily. However, setting aside our insecurities is doable. I've done it. I've seen others do it. When we get out of our own heads and focus on our love it gets so much easier. Every single couple I photograph expresses feeling nervous, awkward or like they aren't photogenic people. In my 6+ years of photographing daily I can honestly say I've never come across someone who wasn't photogenic. When we are happy and focus on the love we have then how could we possibly look or feel anything other than amazing?
8. Feel good afterward!
Allow yourselves to feel proud my friend! You just experienced something that isn't always easy and better yet you did this together. You are that much closer to your celebration and now have a loving set of photographs to cherish forever.

Other tips
Shop early and prepare the day before. Gather clothes and shoes. Clean your ring and fill your gas tank.
Have everything in one place so you can grab and go.
Spend the day of your session doing something low-stress together. Maybe Netflix and chill, cook an early dinner or arrive early and enjoy the scenery.
Run your clothing choices by your photographer beforehand.
Eat healthy and drink plenty of water the day of. Don't arrive on an empty stomach.
Hopefully these tips help! If you're reading this and need any advice planning your engagement session you're always welcome to reach out and ask me more.